For an extra premium our Comprehensive Policy offers an excellent Keep Mobile option which includes unlimited, like-for-like car hire and Copycat cover.
Car Hire
If you need to lodge a claim we'll arrange a hire car for you while yours is off the road. If we can't provide a similar make and model you can choose the nearest available equivalent from our provider, so long as the pick-up location is within a reasonable distance.
If you live in an area where there aren't any hire cars available, we'll pay you $50 a day to cover your travel expenses for as long as your car is off the road.
Copycat Cover
In a nutshell, you might need to borrow a friend or relative's wheels while yours can't be driven. The good news is that your Bingle Comprehensive Policy will cover that car while you, or one of your listed drivers, are using it. (And don't forget, it also covers the hire car.) However, if the other car is already insured then a claim should be lodged under that policy - we'll reimburse the person who paid the excess to the other insurer.
There's one more thing you need to know – if the borrowed car becomes a total loss we'll settle for its Market Value if we're dealing with the claim.
If you want to add the Keep Mobile option you can do it at renewal time or anytime before that.
The option can only be added if:
Your car hasn't been involved in an accident
And there are no current or pending claims on the car
Click here to login.
Then click on the box marked View and update my policy for the policy you want change
You'll come to the Policy summary page
Click on Update my policy on the left side of the page
It will take you to the page shown below
Click on Optional Extras and follow the prompts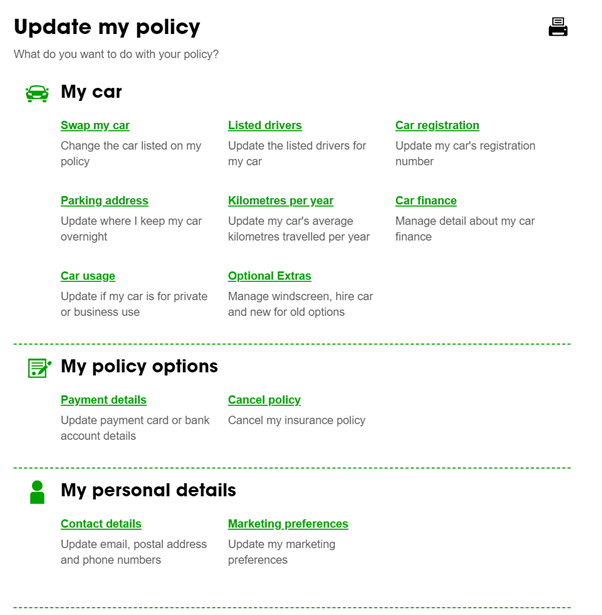 Please note
Learner drivers are not covered to drive hire cars
This option can ONLY be removed at renewal.