If a payment hasn't gone through for your monthly premium, you can make a manual payment by following these steps: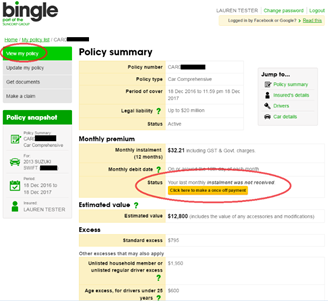 Log in to Bingle Self Service and select the policy you'd like to pay.
Under the 'Policy summary' tab, scroll down to the 'Monthly premium' section.
Under 'Status', click the yellow button that says 'click here to make a once off payment' and follow the prompts.
There are restrictions on what days you can make a payment on either side of the direct debit date. Usually, you won't be able to make a payment in the first two days after your direct debit date, and between days 10-16. You should be able to make a payment on all other days of your monthly debit cycle. The yellow button won't appear on days that you can't make a payment.
If your instalment payment is unsuccessful and you don't make a manual payment, your policy will still be covered for up to 14 days past your original debit date. We'll attempt to make another two attempts to debit the funds before we cancel your policy.
If the payment didn't go through because your account details were incorrect, click here for a step-by-step guide on how to update your payment information.