As an online-only insurer, we want our customers to have the smoothest online experience possible. That's why we've made this step-by-step guide on how to use Bingle Self Service. Whether you're making a claim, renewing, updating your personal and policy details, or getting all your documents in order – we make the online stuff easy!
Getting set up with Bingle Self Service
When you buy a policy with us, we'll set up a Self Service account for you using the email you used to purchase your policy. We'll also send you an email to set up a password, but we get sometimes these can slip through your inbox. Don't worry, you can easily create a new one. Once you log in, your policy details should all be there.
Not seeing your policy? Click 'Where's my policy?' in the top right-hand corner. Then, follow the prompts to find your policy number. When you fill in your details, make sure they are exactly as they appear on your policy. So, if your name is Joshua, and it says so on your policy, make sure you use Joshua rather than Josh. And, voila! Your policy should be there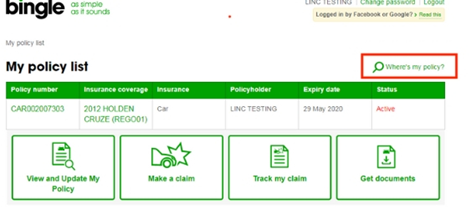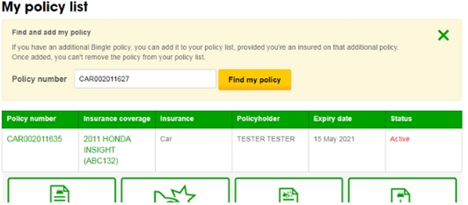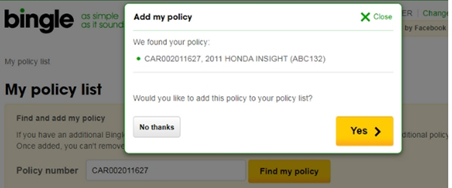 Renewing your policy and making policy changes
If your policy is up for renewal, taking care of it is easy. If you pay your policy annually, things like adding or removing optional extras and changing how often you pay your premium can all be done here. You'll know when your policy is up for renewal if it says so in the status section of your dashboard, plus you'll get an email from us letting you know. Check out the images below to see how easy it is to renew and update your policy using Bingle Self Service.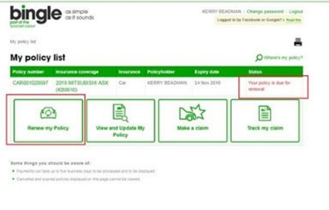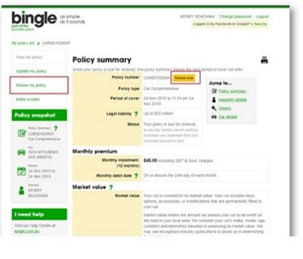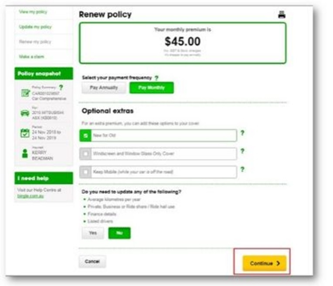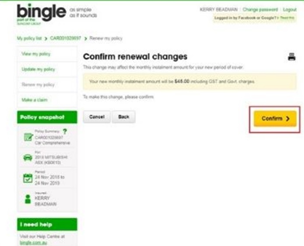 Making a claim
If you've had a bingle, the convenience of claiming online – with no phone hold times – can help take the stress out of the situation. To get started with your claim:
Updating your personal and policy details
Bingle Self Service makes storing and updating all your policy admin stuff a cinch. From adding/removing listed drivers, to changing your car details and your residential address, you can do it all online.
Getting access to your insurance documents all in one place
No need to search through your inbox or file cabinet for all your insurance docs, you can find your Confirmation of Insurance, Insurance Schedule and Certificate of Currency all in one place. And if you're a rideshare driver, this is where you might be able to find the info you need to give to your rideshare provider.